Sales Leadership expert Lisa Earle McLeod created the Noble Purpose Methodology after her research revealed that organizations driven by a Noble Purpose outperformed the market by over 350%. Her bestselling book, Selling with Noble Purpose, has been a game changer at global firms like Flight Centre, Hootsuite, and Roche.
McLeod is the Sales Leadership expert for Forbes.com. She has appeared on the NBC Nightly News, the Today Show, Oprah.com and Good Morning America.
A sought after keynote speaker who has rocked the house everywhere from Apple to Peterbilt Trucking, McLeod is known for her cutting edge ideas, practical techniques, and inspirational humor. She is the author of 4 bestselling books, in 4 genres: leadership, sales, personal development and a collection of humor essays.
Tips:
Trademark your special language like, "Noble Purpose."
Other people are not competitors. They are your peers. You should support each other.
If you write about yourself, no one will care and no one will hire you. Write for the reader.
She doesn't want to be transactional. She wants her life to have a noble purpose.
95% of the business she gets is because people read her book or an article.
You get so caught up with your message you don't see the great messages. Work with a coach to help see those messages.
Use social media to engage in conversations about your topic. You want to bring more attention to your topic.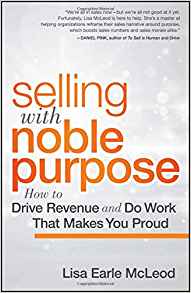 Podcast: Play in new window | Download
Subscribe: Apple Podcasts | Google Podcasts | Spotify | Stitcher | TuneIn