Dr. Tasha Eurich, principal of The Eurich Group, is an organizational psychologist, researcher, and New York Times best-selling author. She's built a reputation as a fresh, modern voice in the business world by pairing her scientific grounding in human behavior with a pragmatic approach to professional development. Over her 15-plus-year career, she's helped thousands of leaders become more self-aware and successful.
Her primary areas of expertise are executive coaching, executive team development, and leadership and high potential development programs. Her diverse client list includes organizations like T-Mobile, KPMG, Walmart, IBM, Royal Bank of Canada, Vail Resorts, and the Miami Heat.
Thinkers50 has named her one of the top 30 emerging management thinkers in the world. Tasha was also chosen from more than 16,000 candidates as one of Marshall Goldsmith's "100 Coaches" to advance the practice of leadership with Dr. Goldsmith (recognized as the world's most influential leadership thinker).
Tips:
Start marketing your book after you turn in your manuscript.
The quiz used as a lead generator actually helped land new clients for consulting and speaking.
How do you want the book to position you?
"Research says" are the two sexiest words in the English language.
When people hear the topic, she wants people to associate her name with that topic.
Use grad students to help with research.
Research something people find important and give them actionable tasks.
Approach your topic with genuine curiosity. You will discover things that you didn't plan on. Writing is an unfolding process.
Because of her books, she is able to be picky about the clients she chooses to work with.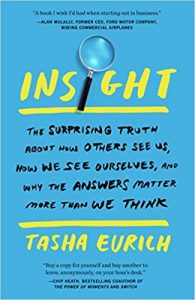 Podcast: Play in new window | Download
Subscribe: Apple Podcasts | Google Podcasts | Spotify | Stitcher | TuneIn