Lee Ellis is President and founder of Leading with Honor®, a leadership and team development consulting and coaching company, and FreedomStar Media®, a publishing company that provides leadership resources and training.
A prolific writer, blogger and thought leader, Lee's latest award-winning book is entitled Engage with Honor™: Building a Culture of Courageous Accountability. His last award-winning book, Leading with Honor®: Leadership Lessons from the Hanoi Hilton, shares his POW experience and the 14 leadership principles that helped him and his compatriots resist, survive, and return with honor. His previous book, Leading Talents, Leading Teams, was published by Northfield Publishing and shares in-depth team concepts on how to lead and manage based on individual, innate gifts and talents.
Some of his appearances include interviews on networks such as CNN, CBS This Morning, C-SPAN, ABC World News, Fox News Channel, plus hundreds of engagements in various industry sectors throughout the world.
He was awarded two Silver Stars, the Legion of Merit, the Bronze Star with Valor device, the Purple Heart, the Air Medal with eight Oak Leaf Clusters, and the Prisoner of War Medal for his service in Vietnam.
Tips:
The book shows you have a great message that can be used in their organization.
Create a bookmark with each lesson you share in the book to create book sales.
Your book can be turned into a training guide.
The book provides a marketing opportunity on Amazon as people read reviews, comments and see star ratings.
His content editor made the writing tighter and made jim see what was important and what wasn't important.
Your content editor should know your industry, your passion, and your voice.
Take your stories and transform them into lessons and coaching modules so they can apply the lesson.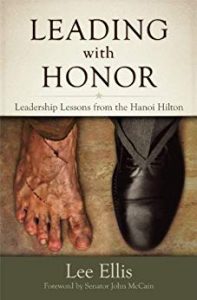 Podcast: Play in new window | Download
Subscribe: Apple Podcasts | Google Podcasts | Spotify | Stitcher | TuneIn