Dr. Linda Henman, author of "The Merger Mindset" works with executives and boards of Fortune 500 Companies and small businesses that want to think strategically, grow dramatically, promote intelligently, and compete successfully, today and tomorrow.
She was one of eight succession-planning experts who worked directly with John Tyson after his company's acquisition of International Beef Products.
Some of her other clients include Emerson Electric, Avon, Kraft Foods, Edward Jones, Blue Cross / Blue Shield, and Boeing.
Tips:
Take a week off, go to a hotel and write your book
Work with a colleague to write a better book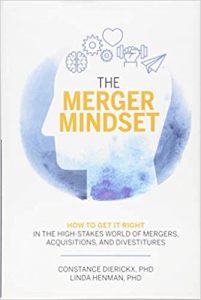 Podcast: Play in new window | Download
Subscribe: Apple Podcasts | Google Podcasts | Spotify | Stitcher | TuneIn