For more than 20 years, Nina Durfee has assisted lawyers and judges with her instinctive editorial eye, drafting, editing, and proofreading legal documents and correspondence, knowing full well that a misplaced comma can change the meaning from innocence to guilt.
She has authored multiple books, and her work has been showcased in a variety of publications, including Writers' Journal.
Tips:
Know what your main point is.
Be clear. Concise. Compelling.
Focus on the WHAT, not the HOW.
When I go to networking meetings, I hold up my book when I introduce myself. That leads to new business and requests to speak.
I didn't write my book to get on the New York Times bestseller list. I use the book as a do-it-yourself guide so people can write a book and then hire me to be their editor.
The biggest mistake I see: People over explain or say the same things over and over.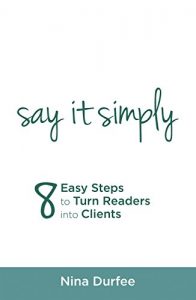 Podcast: Play in new window | Download
Subscribe: Apple Podcasts | Google Podcasts | Spotify | Stitcher | TuneIn