Lisa Anderson, author of "I've Been Thinking", is ranked Number 16 in SAP's Supply Chain Influencers and recognized as one of the top 1% of consultants worldwide. She has deep experience partnering with manufacturers and distributors to maximize value.
Lisa Anderson is the founder and president of LMA Consulting Group Inc., a consulting firm that specializes in manufacturing strategy and end-to-end supply chain transformation that maximizes the customer experience and enables profitable, scalable, dramatic business growth.
Tips:
Take your blog posts and turn them into a book.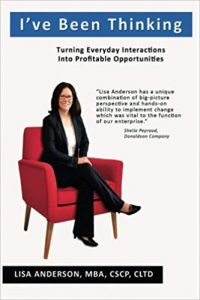 Podcast: Play in new window | Download
Subscribe: Apple Podcasts | Google Podcasts | Spotify | Stitcher | TuneIn