Mike Capuzzi is an Amazon bestselling author, publisher and coach for business owners and sharp, aggressive entrepreneurs looking to get to the next level in their business. Throughout his 25 years in marketing and 21 years as a consultant, Mike's diligent and innovative use of High Impact Marketing has consistently surpassed the expectations and outcomes of traditional "corporate" marketing concepts and business strategies for his clients.
This expertise has led him to be a guest speaker on the stages of some of the world's most foremost experts on marketing, including Dan Kennedy, Bill Glazer, Rory Fatt, Ed Rush and Julie Steinbacher. To date, Mike has helped thousands of business owners create more profitable marketing.
Mike is the inventor of the wildly successful software product, CopyDoodles®. CopyDoodles are hand-drawn graphic files that enable anybody to literally drag and drop attention-grabbing enhancements to their offline and online marketing materials. Tens of thousands of business owners, marketers and copywriters have benefited from the use of CopyDoodles.
In 2019, Mike launched Bite Sized Books, a new publishing venture founded on his proven formula for creating short, helpful books (known as shooks) for Main Street business owners. Shooks are ideal for local business owners who are looking to increase their level of authority, while also providing helpful information in bite sized books.
When he's not focused on marketing or helping his clients, Mike is the proud father of two beautiful daughters, Caroline and Nicole. Caroline, who is attending Penn State University to study journalism, published her first shook, Dog Joy, in 2018. Dog Joy is a collection of dog rescue stories as told by the people who rescued them. She has donated all the profits from Dog Joy (over $5,000 and counting) to help support a number of the rescues featured in the shook.
Mike has been married to his amazing wife Becky for 24 years and counting. Becky is the invisible driving force behind everything Mike does to serve clients, including being the original handwriting artist for CopyDoodles.
To learn more about Mike's opportunities, visit MikeCapuzzi.com. If you're looking for a content-rich, unique speaker for your in-person or virtual event, contact Mike at friend@mikecapuzzi.com or by faxing a note to 888.654.9310.
Tips:
As a marketer, you have to ask yourself, how do you differentiate yourself?
Positioning yourself as an expert authority by being a published author is a time-tested and proven strategy.
After seeing readers struggle to complete long, tedious books and authors struggle with writing the typical 200-300 page book, I came up with a more effective "recipe" for writing nonfiction, business-related books. I created the "shook," a short, helpful book.
Why not make it easier to read a book? Write a book a reader can finish in an hour. Short books gives the reader a sense of accomplishment when they finish a book.
You have to give readers a way to connect with you, either with an active call-to-action (the #1 thing you want readers to do next) or a passive call-to-action (for those readers who want more information before doing the active call-to-action).
One way to market your books is to leverage other people's audiences on podcasts. Put your book in front of other people's customers in waiting rooms and retail spaces.
A short helpful book is a direct response marketing asset. Used correctly, it will serve you for years to come. You want to give the book away, not sell it. You'll make money on the back end by selling your products and services.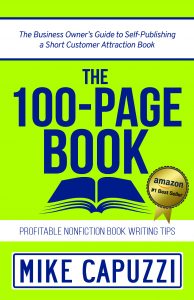 Podcast: Play in new window | Download
Subscribe: Apple Podcasts | Google Podcasts | Spotify | Stitcher | TuneIn