Kris Ward is the leading authority in building your business by building your team. Kris is the founder of the Win The Hour, Win the Day philosophy. She helps entrepreneurs easily double their income and triple their time off.
After the loss of her husband, Kris returned full-time to her work as a marketing strategist. She was thrilled to see that her business had not only survived her absence but was thriving.
Now, Kris has completely changed the landscape for entrepreneurs by sharing the successful practices that allowed her absence.
Tips:
Your business should support your life. Not the other way around.
I want to create a movement: business and life shouldn't be hard. I couldn't reach the number of people I needed to reach just by doing group coaching.
A book gives people a reason to talk to you.
I wrote the book twice. The first time I wrote in marketing speak. It clobbered people over the head.
You have to write consistently. If you don't want to write five pages today because you are tired, you won't be able to write 10 pages tomorrow to make up.
It's not easy to write an easy read.
I use my book for exposure to get onto podcasts and webinars – anyone who has a microphone. A book opens doors.
When it comes to publishing a book, don't take short cuts. All the little things impress an audience. You don't want want your book to look like it was self published or is a glorified PDF file.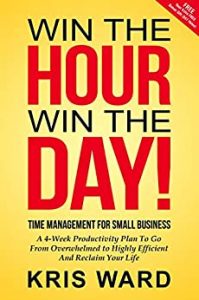 Podcast: Play in new window | Download
Subscribe: Apple Podcasts | Google Podcasts | Spotify | Stitcher | TuneIn