Lisa Levy is the Founder and CEO of Lcubed Consulting.
Lcubed elevates organizations in adapting and transforming quickly for achieving their strategic goals. Lcubed clients include American Express, Honor Health, Freedom Financial Network and The Salt River Project and range from enterprise-level to medium sized organizations.
A nationally recognized authority on organizational change management, Lisa has contributed as a guest expert on numerous media outlets including NBC, ABC, CBS and FOX. Lisa is the soon-to-be author of the upcoming book, "Future-Proofing Cubed: The Definitive Guide to Improving Productivity, Refining Process and Bolstering Profitability in Today's Disruptive Business Environment" and a frequent speaker at conferences for business executives across the country.
A resident of Phoenix, Arizona, Lisa is an avid technology enthusiast and Porsche performance sports car driver who sits on the NAU College of Business Information Systems Advisory Council and enjoys spending time with her family and hound dogs – Danny and Ottoman.
Tips:
I reached out to strangers on LinkedIn. I asked to hear their stories. People were generous with their time. 90% of the people gave me 30 minutes to tell their stories.
I didn't write a single word. I talked my book. I hired a transcriber and edited and edited and edited. I asked "How can I make this more readable?"
I started recording my presentations and facilitations. That became the framework for my book.
The foundation of the book is best practices.
It started reading like a textbook. No one wants to read a textbook. I made it more readable by adding my personal experiences – successes and failure – and stories from experts.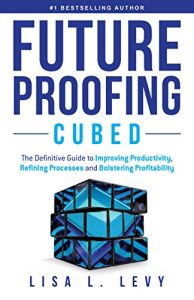 Podcast: Play in new window | Download
Subscribe: Apple Podcasts | Google Podcasts | Spotify | Stitcher | TuneIn