Her book, "A Guide to Positive Disruption," focuses on her experiences working though the ups and downs of the corporate world to make positive changes at the companies for which she has worked. It provides readers with a framework to become change makers themselves.
She has spent her career creating innovative ways for companies to reduce costs or grow their bottom-lines. Joanna led transformation initiatives for businesses in different sectors: among them Johnson & Johnson, Diageo, AllianceBernstein LP, and Cushman & Wakefield. Her clients today range from technology startups and professional organizations to Fortune 50 companies. She has also held client-facing roles, effectively giving her the opportunity to "sit on both sides of the table".
She was named a Distinguished Alumna by Rutgers College of Engineering and now sits on their Industry Advisory Board. Joanna has been recognized for innovation or customer excellence by Determine, American Express, Egencia, and Heublein. She was named to the list of Top 20 Global Procurement Influencers and Top 50 Culture Thought Leaders by Thinkers360.
Tips:
I had a body of work from what I had been presenting for years at conferences. I wanted to write a book to put it all together, and to provide guidance to people struggling with the change they see in the workplace.
In the book, I talk about identifying a characteristic that sets you apart from everyone else. This book, this story, is my differentiator.
When organizations can't afford my speaker fee, we can usually compromise with a lower fee and the purchase of books. Often, they can get a sponsor to purchase books for the attendees.
I have terrible writers block when faced with a blank screen on my computer. But like most executives I know how to give a presentation, so I "spoke" the book. At times, I dictated the book when I was stuck in traffic during rush hour on the New Jersey Turnpike.
People who received my book passed the book to other people who bought additional copies. I've gotten emails from strangers, telling me how the book changed their lives. That's so gratifying.
I created an outline with tremendous detail. The outline reminded me of which stories to tell. Once the outline was completed, the words just flowed. But creating a good detailed outline was hard work.
Executives are very good editors. We edit PowerPoint presentations all the time. So even though I struggle to get words on paper, once they're there I can edit with the best!
Its gratifying when people tell me that when they read the book it felt like I was speaking to them. Truth is, since I dictated the book, I was speaking to them!
My message is simple, "Embrace the Churn!" The workplace will be disruptive whether you want it to be or not, so be proactive and bring some positive disruption to your company.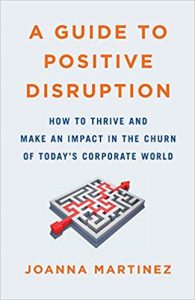 Podcast: Play in new window | Download
Subscribe: Apple Podcasts | Google Podcasts | Spotify | Stitcher | TuneIn