Speaker Paul Ross is an author, speaker, trainer, Master Hypnotist, and Master Practitioner of Neuro-Linguistic Programming. For the past 30 years, he's taught tens of thousands of people the power of language to persuade, sell, heal, turn stumbling blocks into stepping stones, and pain into passion.
Paul's speeches and trainings have motivated audiences around the world to discover their power to design their own results.
If you can already begin to see yourself getting your prospects to convince themselves to buy, adding top dollars to your bottom line, and doing this without resorting to sleazy sales tricks, you will enjoy his acclaimed, industry-shifting book, Subtle Words that Sell.
Tips:
Subtle Words that Sell gives you the exact words you need to shift your mindset so you get over whatever is holding you back from writing your book.
If you ask questions like, "Why do I always fail?" you are focusing on the problem.
At networking events, offer your book for free via text messaging, or give the prospect a printed copy.
Send meeting planners a PDF picture of the cover of your book along with your speaker materials.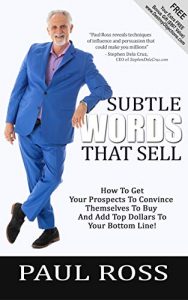 Podcast: Play in new window | Download
Subscribe: Apple Podcasts | Google Podcasts | Spotify | Stitcher | TuneIn