Captain Jim Palmer is a marketing and business building expert and in-demand coach. He is the founder of the Dream Business Mastermind and Coaching Program.
He is the host of Dream Business Radio, the hit weekly podcast based on Jim's unique brand of Smart Marketing and Business Building Strategies. Jim is best known internationally as 'The Dream Business Coach' and creator of No Hassle Newsletters, the ultimate 'done-for-you' newsletter marketing program used by hundreds of clients in nine countries.
If you're curious about Jim and Stephanie's adventurous "floating" lifestyle, check them out on YouTube.
Jim is the acclaimed author of a dozen books including, DECIDE – The Ultimate Success Trigger.
Tips:
It took 9 months to write my first book and 10 months to get the courage to publish it.
Writing a book is only the first step. Then you have to promote it.
Hire an editor who has a proven track record of writing and editing books.
Put all the good stuff up front. Most people don't read past the first third of the book.
Your editor becomes your partner. Once you find someone who can capture your voice, keep them forever.
Become more attached to what the book can do for you, and not the individual words. That's the editor's job.
Every book has its own website.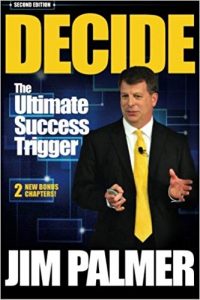 Podcast: Play in new window | Download
Subscribe: Apple Podcasts | Google Podcasts | Spotify | Stitcher | TuneIn