Dan Janal works with top business leaders who want to elevate their reputations and set themselves apart from their competition. As a book coach, developmental editor, and ghostwriter, he shapes stories and strategies that can transform a career or business.
No matter where you are in the book-writing process, Dan can help.
With more than 25 years of experience, he can help find the right process for your unique situation because he's worked with lots of people who have written all kinds of business books and have similar needs to yours.
Dan has written more than a dozen books that have been translated into six languages.
He's a former award-winning daily newspaper reporter and business news editor.
He's interviewed President Gerald Ford and First Lady Barbara Bush.
He holds Bachelors and Masters degrees in journalism from Northwestern University.
He lives with his wife and two cats in Shorewood, Minnesota.
You can find more information and free resources at WriteYourBookInAFlash.com.
He is the host of the award-winning podcast, "Write Your Book in a Flash with Dan Janal", which was named one of the top 50 podcasts for thought leaders by Thinkers360.com
Tips:
Your signature story helps people get to know, like, and trust you.
Your signature story is your defining moment, not your entire biography or resume.
When you write your book, you gain more clarity and focus. Your ideas become sharper and easier to understand.
Your book can explain how you do your work so you can attract the people who like your process and repel the people who do not.
If you have issues that prevent you from writing, you can dictate your book.
Chances are you have plenty of content already created – articles, presentations, blog posts, and webinars – that you can turn into a book. You are not starting from zero.
Do you want to hire the guy who read the book, or do you want to hire the guy who wrote the book? Great quote from Jim Kerr.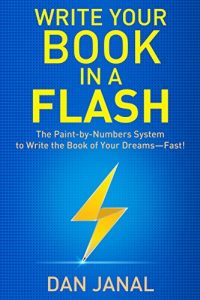 Podcast: Play in new window | Download
Subscribe: Apple Podcasts | Google Podcasts | Spotify | Stitcher | TuneIn