Tamara S. Raymond is a certified leadership development and career coach/strategist committed to professional, career and leadership development for adults and emerging leaders; as well as guidance for teens in determining their career paths.
Tamara's 15-year professional tenure has featured leadership, career and executive coaching; corporate management consulting; serving as an HR subject-matter-expert and organizational change leader; educational speaking; and authoring Careering: The Pocket Guide to Exploring Your Future Career (Morgan James Publishing, New York, NY, November 2017).
Tips:
I wanted to make a difference for young people. The book helps me make an impact.
I wanted to write about the things I wish I had known or if only someone had told me.
I hate writing. I spoke my book. I recorded my ideas and thoughts. It helps me stay in the creative space without worrying about punctuation and grammar.
I made sure I had a recording device easily accessible so I could record my ideas and add information later.
My advice is, "Do not do the journey alone. Get an editor."
Be sure to look at the amount of energy and effort the publisher will put into your book.
The key is to just get started.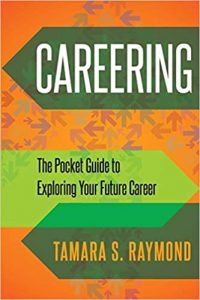 Podcast: Play in new window | Download
Subscribe: Apple Podcasts | Google Podcasts | Spotify | Stitcher | TuneIn