Diana Jones, author of "Leadership Material: How Personal Experience Shapes Executive Presence", brings over 30 years of experience achieving results through better relationships. Diana assists leaders make sense of feedback they have received so they learn how they are perceived and understand their impact on others.
Tips:
Diana Jones sent copies of her leadership book to every CEO in New Zealand where she is well known.
Writing is easy if you have a structure to each chapter: i.e., case studies, stories, and statistics.
She put a chart on the wall to mark her progress in writing 60,000 words in three months.
When you have writer's block, do more research. It will stimulate you.
Create an outline with 5 bullet points per chapter.
Don't be afraid to move chapters around. "It's the internal dance of the book."
When you meet a prospect who read your book, they know how you think. They know your principles.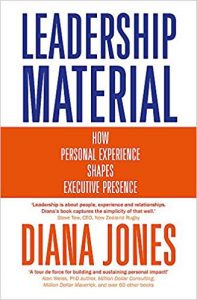 Podcast: Play in new window | Download
Subscribe: Apple Podcasts | Google Podcasts | Spotify | Stitcher | TuneIn