Susan Friedmann, CSP (Certified Speaking Professional) is a well-respected niche marketing expert who's on a mission to wipe out sameness and add vitality and differentiation to your author marketing.
For over 25 years, through her company, Aviva Publishing, she's coached over 400 non-fiction authors, to use their books to become the recognized trusted authority in their field.
Susan's written 17 books including her international bestsellers, "Meeting & Event Planning for Dummies," and "Riches in Niches: How to Make it BIG in a small Market."
She's appeared on a variety of radio and TV talk shows and hosts the award-winning podcast, "Book Marketing Mentors."
From being chased by an elephant to hugging a tiger, from teaching yoga to being rescued by the National Guard, enjoying 3 grandchildren, and traveling with her life partner of 50 years, she leads a full and exciting life.
Tips:
I'm on a mission to improve the awareness of your marketing.
You must find yourself in a little corner of the world where you can be the go-to person.
It's more than just selling books You are offering expertise, value, and a message – not just a book.
What do you want the book to do for you?
Experts can charge more than generalists.
I like to slice and dice the book in as many ways as possible to create more content and increase engagement.
Focus on one niche at a time. You only have a limited amount of time and energy.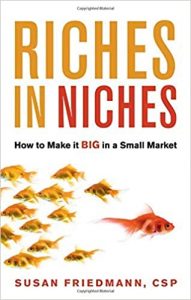 Podcast: Play in new window | Download
Subscribe: Apple Podcasts | Google Podcasts | Spotify | Stitcher | TuneIn