Pamela S. Harper is founding partner and CEO of Business Advancement Inc., enabling visionary CEOs and leadership teams of successful companies to ignite and sustain momentum for game-changing results.
Pam is author of the critically acclaimed book Preventing Strategic Gridlock®, and is featured in a variety of media. For over five years she has been co-host of Growth Igniters® Radio, featuring conversations with best-selling business authors and mid-market CEOs who are transforming the face of business.
Tips:
A book helps people understand how I think. This creates credibility.
What keeps me going is "I have purpose."
To have the right thesis you have to be clear about both your business purpose and your personal purpose.
Rejection from publishers is not personal; it's about their business model. Find new ways to bring your book to life.
What information supports your big idea? Turn that into a story.
Marketing starts when you conceive the book.
You have to continually challenge your assumptions. You are looking for answers. Expect to be surprised when you find them.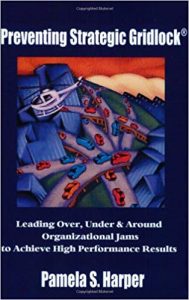 Podcast: Play in new window | Download
Subscribe: Apple Podcasts | Google Podcasts | Spotify | Stitcher | TuneIn