Jeff Davidson, the Work Life Balance Expert®, can move an audience like few others. Jeff offers dynamic learning keynotes and seminar presentations. He combines outstanding content with humor, flair, and inspiration to help listeners manage information and communication overload. Jeff supercharges his audiences to master their to-do lists, manage interruptions, and take action.
Frequently quoted or featured in USA Today, the New York Times, The Washington Post, Chicago Tribune, and the Los Angeles Times; in Fortune, Forbes, and Businessweek; and on 175 talk shows, more than 2,316,000 people have found Jeff's award-winning books (cumulatively selected by book clubs 41 times), audio-books, videos, keynote presentations, and executive seminars to be enlightening, entertaining, and transformational.
Jeff's ground-breaking book, Breathing Space, reveals how to avoid racing the clock and gain more control over each day. His Amazon Kindle #1 best-selling book, Simpler Living, with a foreword by Mark Victor Hansen of Chicken Soup for the Soul, is the definitive work on simpler living, offering nearly 2000 tips arranged by every aspect of life! His first gift book Dial it Down, Live it Up sells all over the world.
Tips:
Ideas are all around us. There's no shortage of ideas. What are people doing well? What are they struggling with? Write about those ideas.
If you're stuck, then call a client and discuss your ideas. Record it, transcribe it, and edit it. You'll have written a chapter.
If you speak for 30 minutes, at a normal rate of 100 words per minute, you'll have 3,000 words, which is as long a chapter should be. That's about 12 pages, double spaced, 12 point type.
Getting started to write is like a slingshot. When you see words on a screen, you are incentivized to keep writing.
Write first. Edit later.
To get over writer's block, pretend your best client is sitting across the table from you and you are having a discussion as you record your thoughts..
Market your book by dividing the content into articles, blogs, white papers, special reports, press releases, and executive summaries.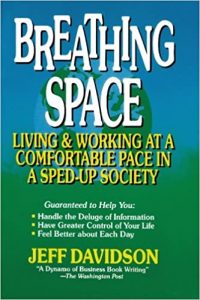 Podcast: Play in new window | Download
Subscribe: Apple Podcasts | Google Podcasts | Spotify | Stitcher | TuneIn