Melissa Davies, an internationally respected coach, trainer, and project facilitator, consistently delivers a deep level of cultural team training, leadership skills and professional development to all her clients.
She believes in a hands-on approach guided by principals in effective communication and personal development, to build a level of trust and understanding for diverse communication styles and leadership needs.
Ms. Davies has traveled extensively with clients throughout Asia, Europe, and the Middle East while her personal travels have taken her to other unique locations such as South Africa, Vietnam, Myanmar, Malta, and Nepal.
Through her international leadership consulting and training, Ms. Davies has developed innovative professional development and training programs. Her key emphasis in leadership skills and effective communication successfully align management teams and company sectors to generate collaborative systemic solutions.
Tips:
I'm a visual learner. I used a Mind Map on a big piece of butcher paper to outline my book. Then I used sticky notes to show my stories and chapters. This is very effective for me as it lets me move the notes around and appeals to my tactile side.
I thought about writing my book for four years. I wrote it in nine months.
I wrote a business parable so readers could see themselves in the context of the story. I wanted to show the character's growth over time.
I wrote the story with three possible endings or 'doors.' The audiences in my training sessions are assigned one of these doors as part of a capstone activity; together they write the ending.
I wanted to hire a ghostwriter, but the person I chose refused and said the book should be in my voice. She helped me with the timeline and the themes. I had the stories that would fit into the themes.
I use the book in my training classes. The book is part of the course materials, which the client pays for.
There's a big difference in terms of credibility between a 30-page PDF and a real book.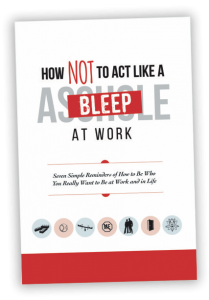 Podcast: Play in new window | Download
Subscribe: Apple Podcasts | Google Podcasts | Spotify | Stitcher | TuneIn