Mary Kate Gulick is Founder of Real Deal Content Coaching, Amazon bestselling author, and award-winning, 20-year content marketing veteran.
She came up through the ranks at digital marketing agencies and in Fortune 500 marketing departments. Most recently, she led the category-crushing, award-snagging, game-changing digital and content marketing team at TD Ameritrade Institutional and the creative team at a Midwest ad agency that's 100% focused on bringing attention to changemakers – nonprofits, community-focused financial institutions, health care organizations – you know, the good guys.
Over the years, Mary Kate has helped hundreds of entrepreneurs, small businesses, nonprofits and global enterprises do one critical thing—share their unique know-how in a way that solved problems.
Tips:
Fake gurus have one goal: To get your money.
You can spot a fake guru because they're the ones telling you that you need to be only two steps ahead of your client. No. If you're an expert, you should be able to meet people where they are and take them to their next level because you have a depth of knowledge and expertise that comes from experience, training and trial and error.
Get the most out of EVERY piece of content you create. Don't create content without first thinking of 15 ways to repurpose it. Squeeze every bit of juice you can from your content.
There are a million strategies to get you where you want to go. But you won't get there if you try to do a million different things. Pick one strategy and work it until you get results or it's clearly failing you.
You don't have to be on every social media network. You need to be where your clients and prospects are. The truth is you only need to do two things: Find your people and talk to them. So choose one platform that your ideal client spends time on and work that until you build a tribe of ideal clients and understand the message that they most care about.
One of the myths is to not write long articles or blog posts because no one reads them. If people are interested, they will read it. The best performing blog posts are still 2,000 words plus.
Lead magnets can't be fluff. You need to show you have depth. You can't do that just by giving little bits of information. I encourage people to do deeper work that shows you have expertise and provide something genuinely useful.
Use your book to populate your digital ecosystem.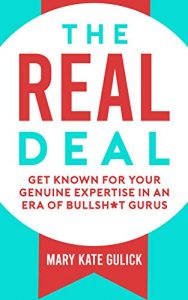 Podcast: Play in new window | Download
Subscribe: Apple Podcasts | Google Podcasts | Spotify | Stitcher | TuneIn