Justin Brady works with the most forward-thinking brands on earth to increase their exposure and engage their employees. His hands-on sessions, podcast, weekly radio show, and writing have helped millions of managers, CEOs, directors, and executives cultivate amazing ideas and develop cult-like followings. His clients are in healthcare, tech, biosciences, advanced manufacturing, and health.
His media work has appeared in The Wall Street Journal, Washington Post, Harvard Business Review, iHeart Radio.
Tips:
Publishers want you to have 50,000 followers on Twitter and 30,000 people on your mailing list before they will publish your book.
Know what the end game for your book.
What do you want your book to do for you?
The numerous rounds of editing was something I hadn't considered. Get a good editor!
I wish I had spent more time working with someone who could help me with the content development process.
Journalists want good story ideas and angles. You don't have to be famous.
The crazier your idea, the more likely you'll develop a following.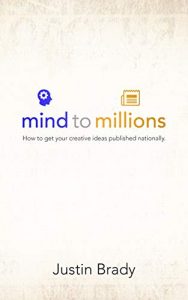 Podcast: Play in new window | Download
Subscribe: Apple Podcasts | Google Podcasts | Spotify | Stitcher | TuneIn