Author, speaker, facilitator and coach, Marc helps your teams ignite their passions, enable your leaders to recenter their focus, and drive continuous improvement through connected and engaged employees. This will allow you to realize your competitive advantage with a connected purpose and consistency of customer experience across your brand.
Tap into Marc's 35 years of operational excellence experience and imagine a world in which the majority of us put more love and care in being of service. Where people dare to be the exception, every day.
Tips:
When I didn't know what to write about, I would write, "Why is this important to me? Then I would write whatever came into my head. Through that process, the words came out. Just write
Bounce ideas off people. When you brainstorm, you find ideas you never would have considered on your own
Tell your stories and tie them to business, so people can say, "I had that experience."
The formula for making points is: story, lesson, application. Everything starts with a story.
Ask people for their stories.
My biggest fear was not finishing.
Start with an outline. But as I wrote, I realized I forget something. So I added ideas and moved things around.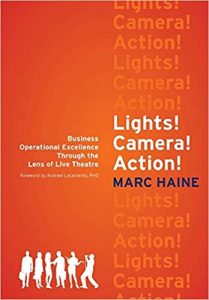 Podcast: Play in new window | Download
Subscribe: Apple Podcasts | Google Podcasts | Spotify | Stitcher | TuneIn