Lisa Tener is a book coach and author. She is trained in a number of holistic systems and practices that have informed the creative nature of her work.
Lisa's most recent body of work is inspired by her study and practice of qigong, yoga, sufi dancing and other spiritual practices. Her signature exercise, "Meet Your Muse" comes from studying indigenous shamanic practices. Anger-obics was inspired by her studies in alternative and complementary healing modalities, especially Polarity Therapy.
Lisa Tener is an enthusiastic advocate for the power of the written word to transform careers, businesses and people. Her latest book, soon to be launched, is called "The Joy of Writing Journal: Spark Your Creativity in 8 Minutes a Day," a journal with prompts.
Tips:
Journaling helps you get past that inner critic that censors you. Journaling relieves stress.
The intention of journaling helps us get at that critical space where we can gain confidence to produce material.
Treat your writing time as sacred time. Schedule it in your calendar.
Create an inviting space for writing. Post inspiring images, light candles or go out into nature.
Nature puts you in a different creative space.
Writing by hand connects with your neural network so you can be creative.
Journaling helped me solve the biggest problems in my life. Journaling helped me write a book and become a book coach.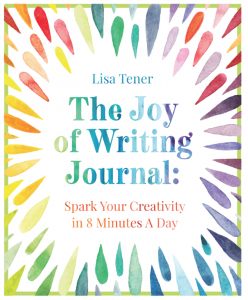 Podcast: Play in new window | Download
Subscribe: Apple Podcasts | Google Podcasts | Spotify | Stitcher | TuneIn