Bonnie Budzowski, principal of Gravitas Press, works with entrepreneurs, consultants, business owners, and executives who want to write a book to establish themselves as thought leaders.
As a coach, Bonnie helps clients create a strategy to develop a book that will serve as a powerful marketing tool.
As a project manager and publisher, she leads a team to manage the details of getting the book completed and out into the world, enabling the author to focus on serving his or her clients.
For well over a decade, Bonnie has partnered with diverse clients to achieve their dreams of becoming an author. Some of their success stories are detailed in Bonnie's book, Does Your Business Need a Book: Six Reasons the Answer Is a Resounding, Yes.
Tips:
A thought leadership book has new or engaging content. It adds a contribution to the conversation.
What is your definition of success for the book?
Thought leadership books today tend to be between 30-60,000 words or 150-300 pages.
The biggest mistake I see is when people write books from their own perspective instead of from the reader's perspective.
The best authors look at their audiences and say, "How can I solve that problem?"
To find the sweet spot for your book, forget what you know and figure out will your target audience pay to know?
Stop thinking about writing a book. Start thinking in terms of chunks you can write and string together.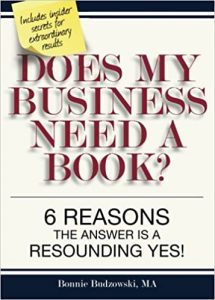 Podcast: Play in new window | Download
Subscribe: Apple Podcasts | Google Podcasts | Spotify | Stitcher | TuneIn