When there is a need to be comfortable, confident, and effective in every room; Susan RoAne® provides the tools and techniques that create the connections and collaboration that build business relationships.
Susan RoAne®, Mingling Maven is the leading international authority and original expert on How to Work a Room®.
Her best-selling books, popular interactive presentations, and media interviews help people, companies and organizations successfully develop, build, and manage client relationships that increase business growth.
Tips:
One good idea can be the basis for a useful book.
What "not to do" is as useful information as what "to do."
An enchanting title can sell a book and launch your career.
The book is my business.
You'd be surprised how many influential people you know through your contacts.
Your book should answer people's questions.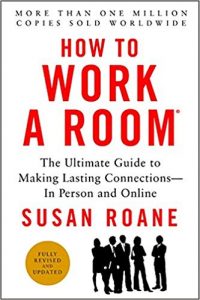 Podcast: Play in new window | Download
Subscribe: Apple Podcasts | Google Podcasts | Spotify | Stitcher | TuneIn