Is your business struggling to get more leads, more customers, clients or patients, more sales, and more money? Can't find the time to do marketing… and don't know what to do even if you had the time?
Stacey Riska aka "Small Business Stacey" helps small and local business owners skyrocket their business growth by getting their marketing into ACTION!
Tips:
When people see my book, they say "Can you do it for me?"
Your book is a way to give back.
When you write your book, you learn about yourself and your ideas.
Be vulnerable in your books. Stories make your relatable.
I hired a developmental editor. She did her brilliance and made my book sound real.
Don't feel your first draft has to be perfect. Hire a developmental editor. Do your best and outsource the rest.
Your book is a very thick business card. Give it to everyone.
Your book helps your prospects understand where you are coming from.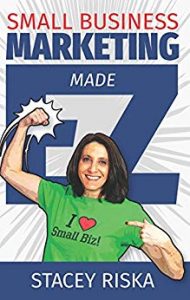 Podcast: Play in new window | Download
Subscribe: Apple Podcasts | Google Podcasts | Spotify | Stitcher | TuneIn