Susan Friedmann, CSP (Certified Speaking Professional) is a well-respected niche marketing expert who's on a mission to wipe out sameness and add vitality and differentiation to your author marketing.
For over 25 years, through her company, Aviva Publishing, she's coached over 400 non-fiction authors, to use their books to become the recognized trusted authority in their field.
Susan's written 17 books including her international bestsellers, "Meeting & Event Planning for Dummies," and "Riches in Niches: How to Make it BIG in a small Market."
She's appeared on a variety of radio and TV talk shows and hosts the award-winning podcast, "Book Marketing Mentors."
From being chased by an elephant to hugging a tiger, from teaching yoga to being rescued by the National Guard, enjoying 3 grandchildren, and traveling with her life partner of 50 years, she leads a full and exciting life.
Tune in now and get Susan Friedmann's thoughts on:
How to create multiple streams of income from your book
How to use your book to create content for social media
Why the riches are in the niches
And much, much more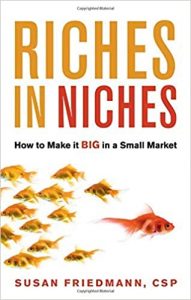 Podcast: Play in new window | Download
Subscribe: Apple Podcasts | Google Podcasts | Spotify | Stitcher | TuneIn