Robbie Kellman Baxter is the founder of Peninsula Strategies LLC, a management consulting firm, as well as the author of the bestselling The Membership Economy: Find Your Superusers, Master the Forever Transaction & Build Recurring Revenue.
Her new book The Forever Transaction: How to Build a Subscription Model So Compelling, Your Customers Will Never Want to Leave was released in April of this year.
Her clients have included large organizations like Netflix, the Wall Street Journal, and Microsoft, as well as dozens of smaller venture-backed companies.
Tips:
How to choose your topic: What can I go deep on for a long period of time and be considered an expert in? Initially, I focused on the early adopters. I didn't have the budget to educate the entire world.
Writing a book can open doors that might lead to work or a relationship. My books help me build my network of colleagues and vendors.
The evangelical book comes first. Then comes the playbook.
The process of writing a book made me smarter and allowed me to pin down my ideas.
Don't be afraid to reach out to the top people to interview for your book. They could be really interested in the topic and may want to help you.
Go back and forth between framework and case studies.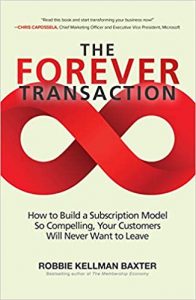 Podcast: Play in new window | Download
Subscribe: Apple Podcasts | Google Podcasts | Spotify | Stitcher | TuneIn