Debbie Allen, CSP has decades of business experience and innate business skills allow her to see beyond simple solutions, to visualize outcomes and results far into the future. She then lays out a path and a proven process for her clients to follow to ensure they achieve success. She has the ability to relate to entrepreneurs, business owners, managers, and sales teams at any level.
Debbie understands different types of business mindsets and can tap into each individual's success potential to guide them towards a deeper understanding and meaning that allows them to move forward quickly.
Debbie has presented in 28 countries and authored 10 bestselling books including "The Highly Paid Expert". As a business consultant, mentor and intuitive, she has decades of experience working one-on-one, small groups and large teams within diverse industries. She has the unique ability to naturally gauge how and where to take a business for expansion and fast growth.
Tips:
You either claim the title of "expert" or your competition will claim it.
When people write an outline there is no writer's block.
Imposter syndrome is an excuse for playing small.
You are too close to your subject and topic. As a business intuitive, I can see your vision before you see it.
Brand yourself with a company name that is based on keyword search terms that people look for. Don't use your name as your brand.
I teach the highly paid expert model. It is like a pyramid and the bottom part of the pyramid is very wide and if you're playing general you're on the wide part of the pyramid, which is where all the competition is. Nobody sees you as something special.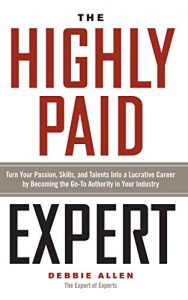 Podcast: Play in new window | Download
Subscribe: Apple Podcasts | Google Podcasts | Spotify | Stitcher | TuneIn