Gerald J. Leonard is the CEO of Principles of Execution (PofE), a Certified Minority Business Enterprise, Strategic Project Portfolio Management and Culture Change consulting and coaching practice with over 20+ years experiencing working with large Federal and State Governments and Multi-National Corporations.
Gerald provides an insightful and unique way of combining his experience and expertise as a professional bassist and a certified Portfolio Management Professional consultant.
During the last 20+ years, he has worked as an IT Project Management consultant and earned his PfMP, PMP, MCSE, MCTS, CQIA, COBIT Foundation, and ITIL Foundation certifications.
He has also acquired certifications in Project Management and Business Intelligence from the University of California, Berkeley, Theory of Constraints Portfolio Management Technical Expert from the Goldratt Institute, Hoshin Kanri Strategic Planning, Executive Leadership Certification from Cornell University, and The Wharton School: Entrepreneurship Acceleration Program.
Tips:
As a musician, you learn to mimic. You watch other musicians who are much better than you are. As a write, I realized I didn't have the greatest literary ability so I learned to mimic really good writers by doing copywork.
Find writers you really like and copy what they write to get inside their heads. It puts you in a meditative state so you can internalize their writing style.
Build a course from the book. Courses take the reader much deeper and can give them an interactive experience.
As a musician, you look for a coach that will challenge you to go to the next level. I realized I needed coaches to help me become a better writer and understand the book marketing business. I also needed to bounce ideas off other more experienced writers.
I don't think anyone can come up with a title by themselves. My agent came up with the title of my book after he read the first four chapters. "Building a Symphonic Company Culture" became "Workplace Jazz" because he knew I was a jazz musician.
I don't always see the value of what I bring to the table. That's why I needed a coach.
I create a grid for the book with each chapter along the top and the contents of each chapter along the rows. That way I can see at a glance if I have enough stories, or if something is missing. I can see the flow of the book.
I always try to put a mediagenic element in each chapter.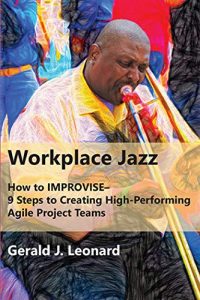 Podcast: Play in new window | Download
Subscribe: Apple Podcasts | Google Podcasts | Spotify | Stitcher | TuneIn