Anne Janzer is an award-winning author, nonfiction writing coach and marketing practitioner on a mission to help people make a positive impact with their writing.
She supports and encourages writers, authors and marketers through her books, blog posts, online courses, webinars, and teaching.
Tips:
Leave time for revisions. Revising is where the magic happens and the brilliance comes out to shine.
When revising, ask yourself, "Do I have the data? Is the material abstract? Do I need more details. Is this in the right order?"
You write from your perspective. You revise from your reader's perspective.
Read for flow. Do you have too many long, complex sentences? Readers don't think the way you think.
You outgrow your outline. You discover new things.
The book is not about you. You have to serve the reader. What do they need to know? When you do this, they will see you are the trusted advisor they need to hire.
I have to write a lot to find the perfect structure. I have to become immersed in the process.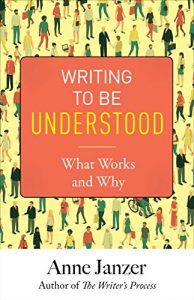 Podcast: Play in new window | Download
Subscribe: Apple Podcasts | Google Podcasts | Spotify | Stitcher | TuneIn