Lin Eleoff is an Internet business lawyer, coach, and author.
Lin has written two books: The Dignity Diet: How to End the Cycle of Cry-Eat-Repeat and Gutsy Glorious Life Coach: How to Turn Your Life Coaching Business Into a Soulful Money-Making Business.
The books highlight the two areas of Lin's expertise: BODY and BUSINESS.
What do they have in common? Whether your goal is to get in the best shape of your life or build your own business, you'll be required to become the woman of YOUR dreams, first, meaning: Neither your best body nor your best business will ever make you happy, but becoming happy first will always lead you to getting everything you want.
Lin's superpower is her ability to quickly get to the heart of what's holding a woman back. She developed what she calls The Woman UP Protocol using brain science, transformational psychology, and years of experience coaching hundreds of women how to go after everything they want. Everything!
Tips:
I wrote a book (in a crowded field) because I have a whole different perspective. When people zig, I zag.
Life coaches at the beginning level were struggling. My book introduced me to those people.
I don't want to write the book myself. I did that with my first book. I hired a coach to help me with the second book. I had a lot more fun! Get someone to help you with the process.
My coach told me how to position myself to get clients.
I give a lot of info on the "what" and "why." I opened the door for them to work with me to do the "how."
I created a checklist of 46 steps to start your business. That was an opt-in for people to download. A lot of those people bought books.
My coach helped me stick to the plan to create 46 steps. I could have written 100 steps. You aren't writing the book to show how smart you are. You are writing the book to help people with a specific task.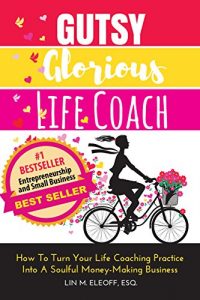 Podcast: Play in new window | Download
Subscribe: Apple Podcasts | Google Podcasts | Spotify | Stitcher | TuneIn