As CEO and founder of Advancing Wellness, Mari Ryan is a workplace well-being strategist guiding organizations to create people-centric workplaces where employees thrive. During her career, she has worked with businesses of all sizes from start-ups to global powerhouses such as Microsoft, Morgan Stanley, and Northrup Grumman. She brings a wealth of experience and expertise.
Mari holds a Bachelor Degree from Lesley University, an MBA from Boston University, and a Masters in Health Promotion from Nebraska Methodist College. Mari is an active member of the National Speakers Association.
Tips:
As a speaker, one of the key things we can do it is to tell a story. That's why I chose to write a business parable, "The Thriving Hive" instead of a traditional business book.
When I get into a story, I can't wait to see what happens to the characters. Why can't a business book be that way? That's why I chose a business parable style for "The Thriving Hive."
It is helpful to have an editor who can offer an outside viewpoint through the process. She provided me with advice on the general direction.
To get the reader involved I asked reflective questions, "What would you do if this happened?"
In a business parable, readers can relate to the characters and wonder what will happen next.
Any time you tell a story where you can bring emotions into it, people feel a connection. It is a powerful way to connect with an audience.
While some authors choose this approach, Business parables don't have to have a second part that talks about the science behind your points.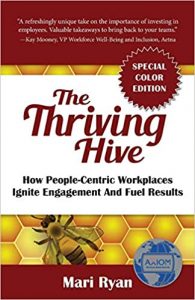 Podcast: Play in new window | Download
Subscribe: Apple Podcasts | Google Podcasts | Spotify | Stitcher | TuneIn