David A. Fields works with small consulting firms across the globe that are eager to accelerate growth, increase profit and create lifestyle-friendly practices. He and his team have guided consultancies ranging from one-person startups to independent, boutique firms to the consulting divisions of some of the world's largest companies.
David's books include Amazon's highest-rated book on the business of consulting: The Irresistible Consultant's Guide to Winning Client, and also wrote The Executive's Guide to Consultants.
David received his Bachelor's and Master's degrees from Carnegie Mellon. He is a hockey fanatic and eats egregious amounts of chocolate.
Tips:
The book is not about you. It is about your reader. If you forget that, you'll lose the reader.
The editor's job is to be audience focused.
An illustration provides a visual break with the written content. Adding art makes a big difference in comprehension.
I took a course and turned it into a book. The information was road tested. We knew what was important, what resounded, and what was too much.
Add an illustration every 1-2 pages to break up the black walls of text.
Getting the book into the hands of prospects is important.
Ask your business partners to send your book to their clients.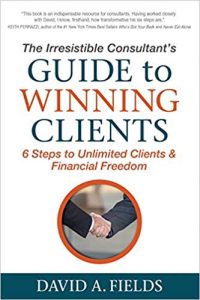 Podcast: Play in new window | Download
Subscribe: Apple Podcasts | Android | Google Podcasts | Stitcher | TuneIn | Spotify