Chad Barr is an Internet marketing strategist with over 25 years of experience transforming businesses through technology innovation.
As president of the Chad Barr Group, his spans multiple continents, with clients in the UK, Italy, Germany, Australia, New Zealand, Canada, and across the United States. Chad helps his clients leverage the web to dramatically transform their businesses and establish a powerful web presence. His firm, the Chad Barr Group, is recognized as one of the leading strategic Internet development organizations in the world.
Chad devotes his time to writing, coaching, consulting, speaking, and leading the Chad Barr Group. A prolific writer about web, marketing, and business strategy, he has published hundreds of articles and several books, which teach how to leverage the web to build your brand and transform your business.
Tips:
Brainstorming tip: Create a bulleted list of ideas to help your clients overcome some of their challenges.
Create a visual meme for your ideas and share on your blog, newsletters and social media platforms.
Select a few of your ideas, add a story, a few applicable examples, an opening and closing paragraph and a call to action and send this article as a newsletter, blog about it and share on your social media channels.
Take each story and transform it into an audio or a visual recording.
Design a Transformation Visual® where a picture speaks a thousand words.
Collect several articles, checklists memes and visuals, sort them into a logical sequence and publish as an eBook or printed book.
Transform your book into an online course where each sub-chapter becomes a video or an audio recording.
Create your digital empire with new intellectual property and your self-esteem will increase so you can eliminate the imposter syndrome.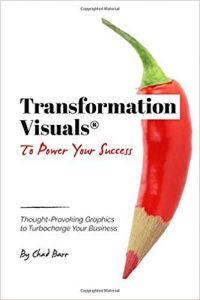 Podcast: Play in new window | Download
Subscribe: Apple Podcasts | Android | Google Podcasts | Stitcher | TuneIn | Spotify